Hang around in the field long enough, and you'll hear the phrase 'Content is King' more often than you heard 'Too big to fail' during the economic crisis.  Content might be king, but very few financial institutions know how to fully wield the power of Content Marketing.
Content Marketing boils down to this
Provide useful or entertaining information about your industry that doesn't directly shill your company. An example of a Content Marketing piece would be a white paper describing how to compare mutual funds. Businesses use Content Marketing for the reasons shown in the graph below, but the ultimate goal of content marketing is to generate trust.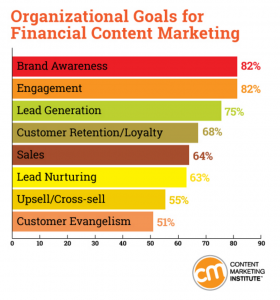 (The Evolution of Content Marketing in the Finance Industry, Content Marketing Institute – See here).
Financial Content Marketing develops trust
Right now, banks and financial institutions don't have the love of their customers.  They're simply not trusted to do the right thing, according to the 2015 Edelman Trust Survey. (See here).

The same survey suggested ways for financial institutions to build trust with its customers:
Listening to customer's needs and feedback

Placing customer ahead of profit

Communicating frequently and honestly on the state of its business.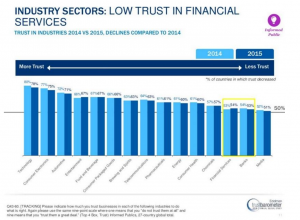 Great Content Marketing initiatives backed by cohesive content marketing strategies can do just that.  

Paradoxically, the best way to sell financial services is to not sell them. Today's customers want to make their own information-based choices. When a brand gives them that information, purchase anxiety is reduced and trust goes up. When trust goes up, reciprocity happens.
Financial Content Marketing Encourages Reciprocation
The law of reciprocity says that people are more likely to do good things for you if you do good things for them first.
For example, if you or someone you know is just starting to wrangle with the concept of money, wouldn't it be great if someone in a position of authority offered to help? Would you think a little higher of the company who offers a resource centre (See here) for people just like you?
As someone who has just received good, valuable information you'd be more inclined to repay that information with further investigation into the bank's goods and services.
Financial Content Marketing Stimulates Sales
People return to the places where they received something of value, whether that is to a brick and mortar establishment, or to a website.  A well-targeted financial Content Marketing strategy that speaks to the target audience (whether they're just leaving college, retirees, or somewhere in the middle) drives sales by offering solutions to pain points and developing trust.

Your customers have gone beyond simple broadcasting and advertisement.  They crave useful information that solves problems, answers questions, and possibly entertains.  By giving your clients what they want, you develop trust, inspire reciprocity, and increase your sales.  Not a bad deal at all!
Subscribe to our Clever Content Club
Our blog is the best way to stay in our Content Marketing and Artificial Intelligence loop!